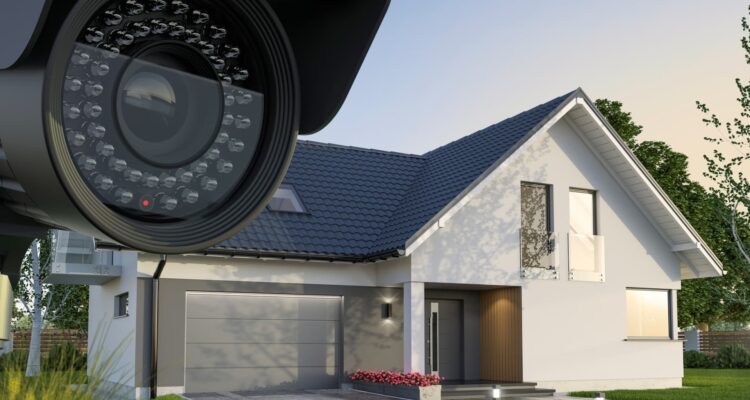 A Guide to Different Types of Home Security Systems
If you've decided it's time to install a security system in your home, condo, or apartment, you might be overwhelmed by the many options you find. Of course, it's a good idea to protect your property and loved ones from various risks, but what's the best way to accomplish that? Figuring out which type of security system will achieve your goals isn't always clear. Here is what you need to know about home security systems and the most common types to help you make the right choice. 
What Is a Home Security System?
A home security system is a group of physical and electronic components that work together to protect your home and its inhabitants. Many home security systems contain the following elements.
Entry Sensor —

Entry sensors in home security systems are made of two parts. One part goes on one side of a window or doorway, and one part on the other. When the two are separated, it alerts the system that a window or door has been opened and triggers the alarm. 

Motion Sensor —

Motion sensors can also be placed in hallways, main entryways, or other places inside the residence to detect motion. Some are even sensitive to the motion of pets, which prevents false alarms. 

Glass Break Sensor —

Some intruders will break window and door panes to gain entry instead of disarming locks. A glass break sensor can detect the sound of breaking glass. 

Security Camera —

Security cameras can connect to Wi-Fi, which enables the system, or your central station monitor, to record what is happening at the residence or watch events in real-time. Many cameras are equipped with night vision technology, recording capabilities, and two-way audio.

Siren —

A siren can be part of a home security system to act as an audible warning and deterrent when the system is activated. It can alert neighbors and scare away intruders. 

Keypad —

Security systems generally require a keypad to arm or disarm the system, which can be mounted to a wall or set on a flat surface. 

Base Station —

The security system's base station will sync all connected devices and integrate with any mobile apps. 

CO & Smoke Detectors —

Most modern security systems include a carbon monoxide and smoke detector to alert if there are any issues with the home's air quality. 

Environmental Sensors —

These sensors can detect extreme weather damage, such as flooding and extreme temperatures. 

Window & Yard Signs —

Many security companies also provide window and yard signs advertising that the system is installed, which acts as a warning to potential thieves. 
Benefits of Installing a Home Security System
If you're a homeowner and don't yet have a home security system, it's time to consider it. Safety is the main reason most homeowners are choosing to install these systems since they protect your home and act as a crime deterrent at the same time. Financially, they're a good idea, too, because having a system installed can get you a break on your homeowners insurance and even boost the value of your home. 
Finally, you can't place a value on the well-being of yourself and your loved ones. These systems can detect and provide advanced notification of a fire or gas leak. They can also alert the proper authorities if there is a medical emergency. 
Different Types of Home Security Systems
If you're ready to buy or upgrade your home security system, what are your options? Believe it or not, you have quite a few choices. Here are the different types of home security systems you can choose.
1. Wired Security Systems
These security systems are hard-wired into your home, with wires that connect every entry point and sensor. They run on electricity, so you don't need to worry about changing batteries, but they'll probably have a battery backup system in case of a power failure. The installation of these systems is complex because it involves drilling holes and significant wiring, but many homeowners choose these systems for their durability. 
2. Wireless Security Systems
Wireless home security systems have come a long way and are becoming more popular. These systems rely on a combination of batteries and cellular or Wi-Fi to connect to the hub and any central monitoring device. One downside to these systems is that they can malfunction due to interference from other devices. However, they are faster and more flexible to install than wired systems. 
3. Hybrid Security System
A hybrid security system is one that uses some wireless components like sensors and cameras. It can either have a wired or wireless receiver. These systems will usually have some wired components, like keypads, sirens, and the main control panel. 
4. Monitored Security Systems
A monitored security system means someone is watching what is going on in the home. It can be the homeowner or a professional service. With a self-monitored system, you are responsible for interpreting alarms and contacting the appropriate authorities to respond to events. 
When you have a professionally monitored system, you can relax knowing your home is being monitored by a trained and highly skilled team that will contact the authorities on your behalf. 
5. Unmonitored Security Systems
Most older and cheaper alarm systems are unmonitored, meaning no one is monitoring your home's sensors or cameras in real time to respond when something goes wrong. With an unmonitored system, you might receive an audible alarm alerting you to an issue, like a break-in or gas leak. 
6. App-Based Security Systems
Most of today's security systems come with an app that allows the homeowner to control certain aspects of the system, receive real-time notifications, and even view live camera feeds. 
7. DIY Security Systems
With a DIY home security system, the homeowner purchases and installs the parts themselves. They also usually monitor the system themselves. In some cases, the homeowner can opt for a DIY install and choose professional monitoring. 
8. Professional Security Systems
A professional security system is just that. A skilled team of professionals will come out to your home to assess your needs and install a system designed to achieve your goals. It may sound costly, but it's really quite an affordable and effective option for most homeowners. The real-time monitoring you receive with this type of system is invaluable. 
Learn More About Home Security Systems to Protect What Matters to You
A home security system not only protects your property and valuables but also delivers peace of mind. You can sleep better and enjoy your time away from your home, knowing a system is in place to detect hazards or other serious risks. 
US Protective Services offers state-of-the-art home security systems to give your home an extra layer of defense against anything that may pose a risk. We can help you select and set up a system that fits your particular needs. As you invest in more smart home features, your system can be integrated and enhanced to deliver even more functionality. Reach out to us today to learn more about our home security system options.