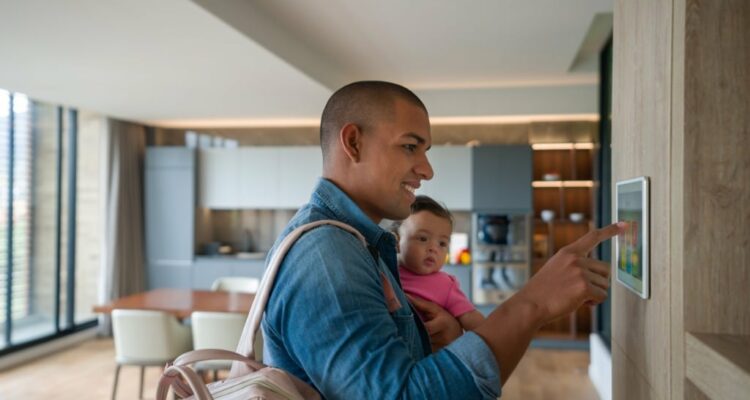 What to Look for in a Home Security System
It's crucial that you consider the security of your home because it contains the things that are most valuable to you—your family members, pets, cherished photos and memorabilia, and important documents and records. Of course, there's the "stuff" in your life, as well, including clothes, technology, toys, and furniture, all of which are important and worth protecting. A home security system can provide the protection and peace of mind that you want. 
Do I Really Need a Home Security System? 
According to the FBI, over 900,000 home burglaries are reported each year in the U.S.
Security systems can offer many benefits. First, they help protect valuables by detecting unwanted intruders. Second, they can deter crime and make the neighborhood safer. Third, they can lower the cost of homeowner's insurance. Fourth, some systems can provide other functions like remote home access, fire or gas notifications, and the ability to monitor your kids and pets.
How to Buy a Home Security System 
When it comes to investing in a security system, there are many options to choose from, ranging from the simple to the comprehensive. To begin the process, consider these decision points.
Decide how much protection you need and what features you want in your home security system. Your decision may hinge on the crime rate in your area, the value of your home, the age of your children, how much time each day the home is unoccupied, and how frequently you travel out of town.

Determine your budget. As the number of features that you want in your system increases, so will the cost. 

Decide if you will do a DIY installation or want

professional installation

. This will be determined by how much technical skill and comfort you have, how much time you have available to do the work, and how comprehensive the system will be. 

Decide if you want a wired or wireless system. These days, most systems are wireless. Wireless systems are easier to install and harder for the bad guys to disarm. 

Decide if you want self-monitoring or professional monitoring. 

If you choose to have the system professionally installed, you'll want to have an in-home consultation to review your needs and desires and evaluate the home's configuration. 
What to
Look for in a Home Security System
There are five major features in the best home security systems.
Security cameras. Security cameras can see, record, and provide notifications of activities in and around your property, including unwanted visitors approaching the front door, back door, garage door, or selected windows. They can also show you suspicious vehicles or other potentially troublesome activities around your home. Motion detection can facilitate real-time alerts to protect your home whether you are at home or away. 
Cameras can be both indoor and outdoor. You can consider additional features like night vision and two-way audio communication. Indoor security cameras can provide the benefits of watch-care for children and pets to ensure their safety and proper behavior.
Outdoor cameras can focus on critical yard recreation areas like pools, sports courts, patios, and decks. Doorbell cameras can monitor front door visitors, salespeople, and package and food deliveries, and they can even send away people that are unwanted. 
Professional alarm monitoring and video surveillance. Let's face it. You can't monitor your home every minute of every day when you are away. In that case, professional monitoring can give you peace of mind that your property and its safety are being monitored. 
Energy management. Home security systems can also provide controls over non-security functions like adjusting heating and cooling while you are at work or on vacation. Additionally, light settings can be managed to turn lights on or off at certain times. 
Carbon monoxide and fire detection. Fire and carbon monoxide detectors are critical in every home. Using smart technologies, both fire and smoke and carbon monoxide detectors can be integrated with smart technology to ensure the safety of your home. 
Wellness alerts. Wellness alerts that protect seniors or individuals with serious physical conditions can be implemented into home security systems, allowing individuals to instantly contact an emergency call center.
Here's a list of security equipment that many professional home security companies carry for the features and services that they offer.
Video doorbells

. 

Nanny cameras. 

Floodlight cameras. 

Door-window

sensors. 

Glass break sensors

. 

Motion sensors. 

Smart home integrations. 

Wireless monitorings. 

Two-way talk technology. 

Fire and smoke alarms. 

Carbon monoxide detectors. 

Professional monitoring.
Security Camera Features
When selecting a security camera system, you should choose cameras that…
…work fast. You want cameras that will respond and "wake up" when there is motion in their viewing field.

…have good video resolution because blurry images aren't going to be helpful.

…have night vision since many home invasions happen at night.

…have two-way audio so you can stay safely inside your home and communicate with outside intruders.

…have stellar video storage capacity.

…have a good field of view. It isn't helpful if all you see is the image just outside the front door, for example.

…are durable and weatherproof
Consider the Terms 
Obviously, a comprehensive professionally monitored system will cost more than a simple off-the-shelf DIY system. But what is the value of safety for your family and possessions? What price can you put on safety? You'll need to consider the costs of equipment, installation, activation fees, and monitoring costs. Carefully review the terms of your contract, including how long the contract will extend.
What Can U.S. Protective Services Offer You?
U.S. Protective Services offers smart home security systems that provide a simple user experience, value-added options, and comprehensive monitoring. 
First, one of our trained security professionals will come to your home and do an assessment. We'll offer our recommendations based on the number and location of doors and windows, perimeter protection, and other considerations. After that, we'll give you options that meet your needs and budget.
Once you accept, we'll install the system professionally and provide you with 24/7 local monitoring services. We'll also offer you our Infinity Program, a fixed monthly rate program that covers all out-of-pocket costs for repairs, maintenance, and battery replacements. 
Our state-of-the-art security and home automation systems offer remarkable security, awareness, and comfort. With our technology, a homeowner can control connected home products like cameras, lighting, detectors, thermostats, and smart locks with a single easy-to-use app.