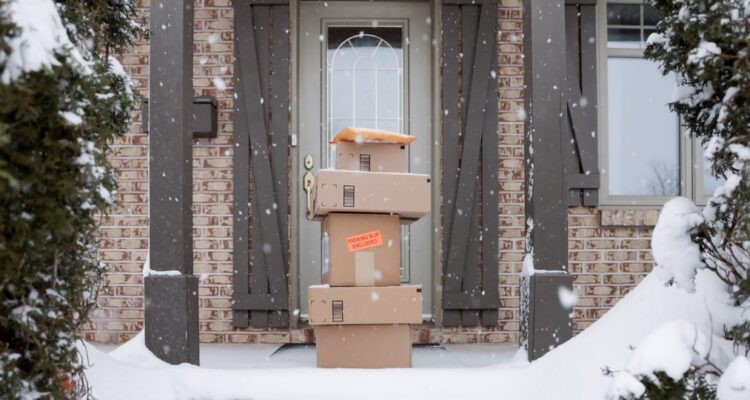 6 Ways to Prevent People from Stealing Your Packages
When you order something special online, or when it's the holidays and your doorstep is filled with gifts, one of the last things you want to worry about is someone stealing your packages. Package theft on front porches has become all too common in recent years—an estimated 260 million delivered packages were stolen in 2021 alone—but thankfully there are a few simple steps that you can take to make sure your belongings stay safe.
In this blog post, we've compiled some tips for preventing package theft so that homeowners everywhere can enjoy their products without worrying about them being stolen. Check out these easy ways to keep those parcels under lock and key!
1. Install Security Cameras or a Video Doorbell
Installing a security camera in the area where your packages are delivered can provide some peace of mind and added protection for your belongings. By having a surveillance camera, you can monitor activity in this particular space of your home, which will help ensure those deliveries remain safe from theft or tampering.
Not only is this an effective and simple way to protect your items from criminal activity, but it also gives you the option to review footage if you have any concerns or questions about package arrivals. A security camera can give you visibility and control over who is coming and going so that no one interferes with your deliveries when they arrive.
2. Schedule Deliveries for Times You Are Home
Having the right person available to receive a package when it is delivered is key for successful delivery. Making sure someone is there helps ensure the safety of any valuable items. It also keeps packages safe from potential theft and tampering since they can be immediately brought inside.
Arrangements can be made with carriers to make sure someone is present to accept the package during regular working hours or at another appointed time. It's important to note that any additional charges associated with this should be taken into account when planning delivery times. Taking the time to put this plan in place will help make sure your package arrives safely and on time.
3. Ask Your Neighbors for Help!
Making sure your packages are safe can be a challenge if you are out of town or stuck at work. A great way to safeguard your packages is to ask your neighbors if they could kindly keep an eye out for deliveries and even bring your packages inside if you're unable to be home for their arrival.
Not only does this benefit you and feel like a weight lifted off your shoulders, but it also builds stronger community ties amongst those living nearby. Take the initiative to develop relationships with those around you and keep everyone's deliveries out of harm's way!
4. Have Your Packages Delivered to a Secure Mailbox
One of the best ways to ensure your packages are safe is to sign up for a secure mailbox. While traditional package delivery options may leave parcels outside your front door with little security, a secure mailbox lets you take back control. This type of mailbox requires you to use an individual code in order to gain access and unlock the mailbox when it's time to retrieve your package.
These mailboxes can be seen in apartment complexes and businesses, or you can purchase stand-alone units so that you have the added assurance that only you can pick up your deliveries when they arrive. If you're looking for a way to ensure your packages are always safeguarded until they land in your hands, consider investing in a secure mailbox today!
5. Require a Signature Upon Delivery
While many delivery companies provide services like driver tracking and live notifications to help keep items safe, it's also important to take steps to ensure the item actually arrives at its intended destination. Requesting signature confirmation from the delivery person guarantees that your package will only be given to an authorized recipient and ensures protection against damages, theft, or wrong address errors.
Furthermore, obtaining a signature often eliminates disputes over whether the package was delivered or not and can resolve any issues quickly with the carrier service provider. Requesting signature confirmation upon delivery can save you time and money in the long run and should be employed whenever possible for added security.
6. Use a Package Tracking Service
If you're routinely sending and receiving packages, having a package tracking service is advantageous. It will allow you to monitor the location of the package at each step of its journey; you'll know exactly when it's been shipped, when it arrives at its destination, and even if there are any delivery delays.
This can save you time, prevent rerouting efforts, and provide you with peace of mind since you'll stay up-to-date on your order. Plus, some services offer real-time updates so that you can quickly accomplish any follow-up steps while everything's still fresh in your memory. Whatever type of shipment you're dealing with, taking advantage of a tracking system takes away the guesswork and improves the whole process.
Taking these steps to increase the security of your packages can be invaluable when it comes to theft prevention. Whether you're ordering gifts for family members or valuable items for yourself, every effort taken to ensure their safe delivery is worth it.
By taking small actions, such as installing security cameras or opting into a package tracking service, you can feel confident that your packages will arrive safely and securely. With a few preventative measures, you can easily secure your deliveries and reduce the worry associated with stolen packages.
US Protective Services is a home and business security company based in Cleveland, OH. Our state-of-the-art residential security systems include security cameras, access control systems, and alarms that are monitored 24/7.
We can help safeguard your family and valuable belongings, deter intruders, and reduce the likelihood that your packages are stolen by thieves. Call (216) 475-8550 or email info@usprotectiveservices.net if you would like to schedule a free security consultation with one of our expert team members!