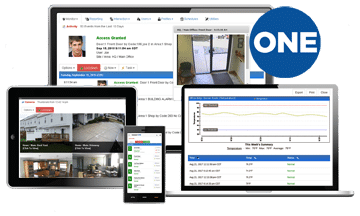 Connect ONE is a web-hosted service for remote management of your Bosch security and/or access control system. The service not only provides robust control and management features, but also offers enhanced integrations not previously possible:
Seamlessly connect to multiple locations with a single login
Works entirely through a web browser from any device with Internet access
No software or servers to maintain
Automatic feature enhancements at no additional cost
Receive instant event notifications: via onscreen, email, or text messaging to your cell phone
Truly integrated burglar alarm and access control system, features such as: disarming by card or keyfob, restricting door access when the system is armed, unlock door schedules only when disarmed – easy handling of half-days or holidays, lockdown, and much more.
Integrates with video system to display, record or send video clips of system events
Easily track employee time in productive vs non-productive areas of the facility
Monitor, audit and report climate-controlled areas such as medication coolers
Save on energy costs with thermostats that follow the building occupancy
View and control thermostats remotely and even prevent unauthorized onsite use
Bosch users who have previously used RPS Lite should consider upgrading to Connect ONE. In most cases no equipment upgrade will be necessary. We will offer incentives for upgrading upon request.