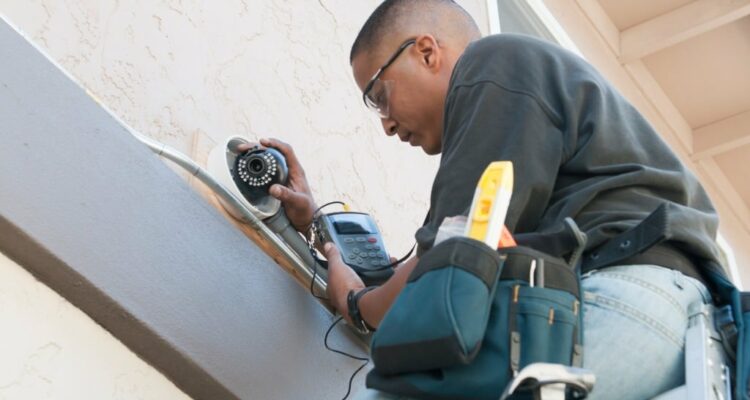 Security System Maintenance Checklist
Your security system is vital to detecting security threats, such as break-ins, and ensuring the safety of your home or business. As a result, security system maintenance is equally essential for keeping your security system running optimally and worry-free while also avoiding costly and stressful system malfunctions.
Preventive maintenance not only ensures your security system is running correctly but also helps identify potential vulnerabilities, correct minor issues, and prevent major disruptions. Although security system maintenance varies by brand and the type of system you have installed, below, we've provided you with an easy-to-follow security system maintenance checklist to keep your security system running as smoothly and efficiently as possible.
Continue reading below to learn more about how you can ensure the long-term viability of your security system and discover how U.S. Protective Services can help make your security system maintenance simple and stress-free.
Test Your Security System's Components
Regular testing of your system is one of the best ways to ensure your security system is working correctly. The control panel is where the security sensor signals are sent, which interprets them and sends them to our monitoring center. Before testing any of the systems, please be sure to call us at (216) 475-3000 to have your system put into test mode to disregard any signals we may receive.
While running the test, keep an eye out for any loose wires or damage to the control panel, and notify U.S. Protective Services if you see any problems or indications that the system is wearing out or malfunctioning. Be sure to contact your security provider before running the test mode to prevent the monitoring service from contacting the police once you activate the alarm during the test.
You should also inspect your security system's sensors to ensure they are working correctly. A wireless door sensor, for example, could lose communication with your security control panel, preventing an alarm from being triggered if an intruder tries to enter through that particular door.
To conduct a sensor test, step in front of each motion detector after opening the door, window, or specified area where the sensor you wish to test is located. If your security system has triggered an alarm, your security company will notify you.
If your motion sensor isn't working, you may need to replace the batteries or reconnect the sensor to your system. If neither of those solutions works, you may need to contact your security company to have them perform an inspection.
It's also essential that you check your alarms and communication systems to ensure they are working correctly and properly connected so that the appropriate alarms sound in the event of an emergency. Additionally, you'll want to ensure that these alerts are relayed and received by your security provider to ensure a quick response time.
You can do a "walk test" by calling your security provider and asking them to disregard any signals and put the system in test mode. Then, arm the system and trip the sensors to make sure everything is working as it should. After you complete the test, contact your security provider again, so they can check any signals and take the system out of test mode. We recommend that you do this once per month.
Inspect and Clean Devices
A visual inspection and some light cleaning go a long way toward ensuring that your security system performs as it should. We recommend that you wipe off your equipment with a dry cloth, but we do not recommend that you use cleaning products or clean the system's inner workings. This could cause damage to your equipment. Thorough cleaning is better left to the professionals.
Security devices installed in poorly ventilated areas accumulate dirt more quickly, so consider using a microfiber cloth to wipe down all security camera lenses and sensors and get rid of any smudges. Additionally, you should also ensure that any curtains, drapes, or other objects are not obstructing your motion detectors or cameras.
Inspect Security Cameras
Your security cameras are an essential component of your home security system, and if they go down, it might be disastrous. Check your security cameras regularly to avoid your home or business being subject to break-ins.
If you have security cameras installed on your property, double-check that each camera is positioned correctly and producing clear recordings. Additionally, inspect the wires for noticeable wear and tear and whether or not they are correctly attached. If your cameras connect via wireless internet, ensure the signal is strong enough to receive a continuous connection.
If you don't have security cameras, consult a security system expert about which camera technology suits your needs. Based on the architecture and layout of your property, a security expert will be able to help you determine where they should be installed and identify any blind spots you may not be aware of.
Take Your Security to the Next Level with U.S. Protective Services
The safety and security of your home or commercial business are always top priorities. With preventative maintenance, you not only avoid inconvenient and costly system failures but also ensure your security system runs effectively and keeps you, your property, and visitors safe.
For more than 50 years, U.S. Protective Services has provided comprehensive security solutions to Northeast Ohio businesses and homeowners that are easy to use and tailored to their specific requirements. We believe that our commercial and residential customers should get the most out of their security investment, and we remain committed to delivering industry-leading quality and service to all of our customers.
To learn more about how we can improve the quality of your security, contact U.S. Protective Services today to speak with an expert about how our professional-grade security systems can simplify your security with extensive, 24/7 monitoring.