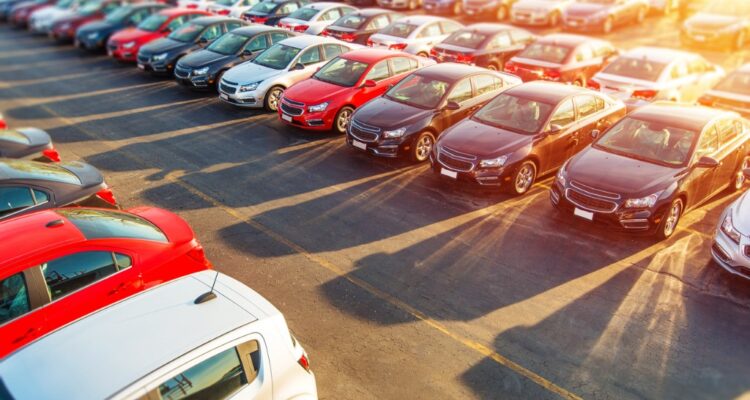 The Best Auto Dealership Security Systems
Due to civil unrest across America, there has been an increased sensitivity to property security over the past two years. In addition, security problems have been exacerbated by many impacts of COVID-19.
Security concerns are evident in the number of TV commercials advertising security systems and services for homes. Security is also a significant concern for businesses. Consider the challenges faced by auto dealerships that have millions of dollars of inventory on their lots, as well as substantial amounts of customer traffic with open access each day.
Auto dealerships experience on-site vandalism and damaging mischief, catalytic converter theft, false accident claims, and stolen cars. Car thefts reportedly increased over 11 percent in 2020. All these problems result in millions of dollars of cost and lost profitability. Thus, effective security is critical to operating a successful car dealership. 
What Are the Goals of an Effective Security System?
An effective security system should help deter car theft and theft of easily removable parts, such as wheels, catalytic converters, and navigation systems. It should protect against fraudulent vehicle damage claims when a vehicle comes into the dealership for repairs or service.
It should enhance employee productivity because employees don't have to be physically on the prowl, constantly watching for mischief and theft. It can save the expenses of useless vandalism and accidental damage. It should reduce insurance premiums and provide all auto dealership stakeholders peace of mind.
Outdated Security Measures
The old ways of attempting good security coverage include hiring an army of expensive security guards, fencing the car lot (making it feel more like a fortress or a prison yard), or hiring ineffective drive-by security patrols that only have an intermittent and very avoidable presence.  Security camera systems that aren't monitored aren't helpful, nor are cameras that only record surveillance so that no response can happen until the footage is eventually reviewed.
What to Look for in a Car Dealership Security System 
Consider the following five aspects that a security system should address. Security systems should be unobtrusive to customers and not make it difficult for them to shop and buy. However, they should be substantial enough to deter theft and vandalism.
Burglary Protection
Businesses are more susceptible to burglaries compared to homes due to the value of the items that might be stolen along with their posted operating hours. Car dealerships, for example, often post their operating hours on their doors so potential burglars can plan their "attack" accordingly.
If burglars break into a dealership, they will have damaged the building, plus they may gain access to car keys or other inventory items. So, there is value to the exterior and interior security. Security systems aimed at burglary protection will include features like video surveillance, door/window sensors, motion detectors, sirens, and 24/7 monitoring. All these can help deter theft and increase the chances of recovering stolen items.
Vandalism Protection
Senseless mischief, graffiti, and property destruction can cost car dealerships thousands of dollars in damages and impact all employees' sense of security and well-being. Vandalism can also negatively affect customer feelings toward the enterprise.
A system with alarm capabilities can scare off vandals and criminals, and video surveillance systems can identify suspicious activity and help law enforcement personnel apprehend trespassers. A system with 24/7 remote video monitoring can alert owners when someone is on the property without authorization.
Access Restriction
A car dealership has lots of space that may have open access to monitor, but some areas should have restricted access, including office areas, critical equipment rooms, and areas for storage of keys and files. All of these can be protected with video surveillance cameras and alarms.
High-Quality Technology and Craftsmanship
The right auto dealership security system should come with state-of-the-art technology, not some off-the-shelf stuff that one might purchase at a home supply store. If you expect your security system to work correctly, it needs to be high-quality, and it needs to be installed professionally.
The Best Auto Dealership Security Systems 
The best auto dealership security systems should be focused on detecting unwanted intrusion and deterring and minimizing potential loss. It should also avoid false alarms so that the quality of emergency response resources will be improved. Consider these valuable system features.
Burglar alarms with reliable technology that provide

real-time

alerts by email, text, and app notifications. 

Video alarm verification that enables police dispatch with a crime-in-progress priority response and live intervention. 

Fire alarms that feature smoke, heat, and flame monitoring, reduce false alarm occurrences, and provide local monitoring for rapid

response times

. 

Video analytics, including facial recognition, object tracking, and traffic counting that provide insight into customer and employee behaviors. 

Access control that is fully integrated with cameras, security, and fire systems, along with instant updates and access management.  

Supervised 24/7 monitoring of all

security system

s. 
Choose the Best Security Systems for Your Auto Dealership 
Contact U.S. Protective Services, based in Cleveland, Ohio, for the best security systems for your auto dealership. Our mission is to make smart, simple security available to commercial and residential customers, based on every client's needs. We provide professional-grade security systems that keep you, your employees, customers, and valuable inventory secure.
Our security systems use modern IP and cellular communications for reliable local monitoring. Every system we install includes remote user access and remote service and diagnostics from our service department. Our approach is to provide a security solution that is both comprehensive and simple to use.
Since 1969, U.S. Protective Services has been a leader in electronic security and surveillance. We are accredited by the Better Business Bureau and the National Fire Protection Association, and we have partnerships with respected brands that provide industry-leading quality and support.