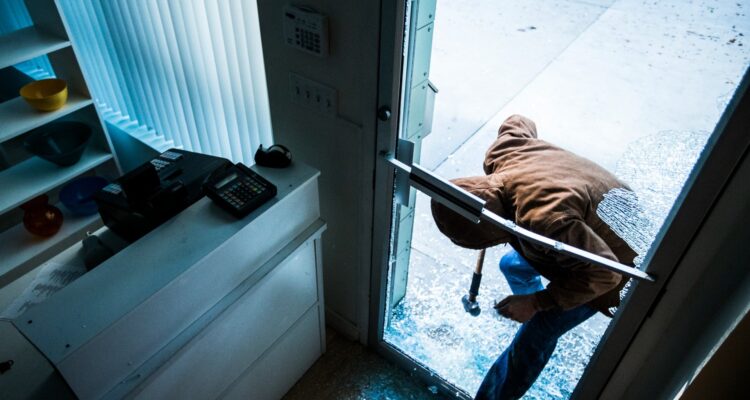 8 Reasons Why Your Small Business Needs a Comprehensive Security System
In 2022, property crimes skyrocketed, rising 40% compared to 2021. Small businesses, often lacking robust security countermeasures, are frequent targets. Restaurants have had their windows smashed and products stolen. The need for security systems has never been more clear.
If you want to keep your business, employees, customers, and visitors safe, it's time to start taking security seriously. This article will cover the top 8 reasons your business should have a comprehensive security system.
#1: Protection Against External Threats
The most obvious reason for installing a security system is that it can dramatically reduce the likelihood of a break-in or burglary.
Research and statistics support this point. In the 1990s, the Department of Justice ran a large study and found that businesses without security systems were four times more likely to be burglarized than those that did. Another study from Rutgers found that property crime rates throughout a community gradually decreased as the number of installed security systems increased.
Over the years, all the evidence has shown that security systems are effective deterrents against criminals. Simply put, strong security systems increase the risk that a criminal is caught and punished if they attempt to breach your business. This risk makes would-be burglars more likely to look for a softer target.
#2. Employee Safety and Well-being
It is a well-documented fact that people behave differently when they know they are being watched. In the security world, this is known as the 'Observer Effect.' Practically, this means that people who may be more likely to engage in aggressive, potentially harmful behaviors are less likely to act that way when under surveillance.
Irate customers who may lose their cool are less likely to harm your team members if they know their actions are being recorded. Overall, security systems can effectively improve workplace security and emergency response capabilities.
#3. Asset and Property Protection
A security system can provide asset and property protection by having surveillance cameras and motion detectors placed strategically around the property. This can help deter burglars and vandals from attempting to break in. Additionally, an alarm system can alert authorities and property owners of any unauthorized entry.
To track assets in real-time, the security system can utilize surveillance technology. This can help monitor the location and movement of valuable assets as they move through your property. By having a reliable security system in place, property owners can have peace of mind knowing that their assets are safe and secure.
#4. Data Security and Privacy
As our society becomes increasingly digitized, cybersecurity has come to the forefront. However, cybersecurity starts with physical security. Sensitive customer and business data is often stored on laptops and flash drives.
If stolen, these assets result in the exposure of passwords and other sensitive information that could then lead to a cybersecurity breach. Furthermore, several data protection regulations require physical security systems to be in place in order to protect data.
#5. Legal and Liability Considerations
When legal disputes arise, security systems can provide the necessary evidence you need to defend your business. Surveillance cameras and access control systems can clearly identify the individuals involved in any situation on your property.
When an accident occurs on your property, identifying the parties responsible is critical. Your security system can help you with this. Furthermore, a security system also demonstrates due diligence to insurance providers, who will appreciate that you take security seriously at your business. Insurance companies may offer significant discounts if you have an alarm system installed.
#6. Remote Monitoring and Management
With a commercial security system, you can have real-time access to security footage and alerts, which allows you to manage security remotely and increases situational awareness. This is especially great for small businesses, as it allows you to monitor activity throughout the day and respond immediately to any potential threats.
One great example of this kind of technology is Connect ONE. With Connect ONE, you can access and manage your company's security from any device with an internet connection. Get instant event notifications via your mobile device and better manage your team via security cameras. Be everywhere at once and keep your business safe with Connect ONE.
#7. Business Continuity and Disaster Recovery
Security systems go above simply protecting your business from physical harm or burglary. They can also support the early detection of fire and other emergencies. Indeed, commercial fire alarm systems can be integrated to ensure that the proper authorities are instantly notified in the event of an emergency.
The rapidity of an automated system can help you minimize downtime and reduce costly disruptions. From a business continuity and disaster recovery perspective, this makes having a comprehensive security system a no-brainer.
#8. Building Trust with Customers
When customers see that your business has installed a security system, they trust that you are doing your part to keep them safe. This demonstration of a commitment to customer safety on your part can help enhance your brand's reputation and earn you a more loyal customer base in your community. A security system can also be a great way to differentiate from competitors in your area who may not be taking security as seriously.
The Need to Prioritize Security Is Clear
The importance of security systems in business is undeniable. Crime is everywhere, and it's impossible to know whether your business will be next. Many of us install security systems in our homes. Why not take the same precaution to protect your livelihood and the safety of your employees? As a small business owner, you've got enough on your plate without worrying about whether your products will still be on the shelves in the morning.
It's time to prioritize security and get your peace of mind with a comprehensive security system. If you're a small business in the Cleveland area, why not work with an expert team? Here at U.S. Protective Services, we have years of experience deploying security solutions across a wide variety of commercial and residential settings. We can do the job quickly, and we'll do it right the first time. Reach out to us today to learn more!